blog
Tampa: One of the 'Best' Cities in US to Live and Play
Tampa: One of the 'Best' Cities in US to Live and Play
Posted:
July 14, 2015 |
Categories:
Communities
|
News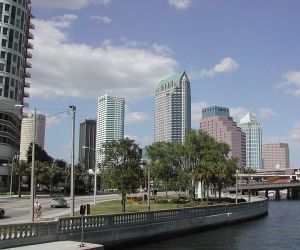 No matter what you're looking for in the location of your Florida new home, Tampa is sure to have it. With its abundance of great small businesses and diverse residents, as well as access to excellent job opportunities, exciting outdoor destinations and some of the country's best craft breweries and beaches, Tampa is truly one of the best places to live in the state, if not the nation. In fact, according to the Tampa Bay Business Journal, the Tampa Bay region recently ranked on several national 'best' lists.
Top Metros for Small Businesses
If you're a small business owner, then the Tampa Bay-St. Petersburg area may be the best location for your next venture. After examining more than 12,000 small businesses, Biz2Credit listed Tampa-St. Petersburg at No. 19 on its 2015 ranking of the best cities in America for small businesses. Plus, Tampa is home to headquarters for several large companies including Publix, Raymond James Financial and Tech Data, adding to the overall strength of the area's economy.
Best Cities to Find a Job
And, speaking of business, if you're on the hunt for a new job, then Tampa has you covered. The city was ranked on WalletHub's 2015 list of the Best & Worst Cities to Find a Job as the best place to find work in the Tampa Bay area. Nationally, Tampa came in at No. 24 out of 150 of the most populated cities.
Best Cities for an Active Lifestyle
However, an excellent job market isn't all that this location has to offer. For people who enjoy staying active, the Tampa area boasts many opportunities for outdoor and recreational activities. From water sports on the bay channels to unique green spaces for activities like hiking and picnics, Tampa offers a variety of wonderful things to do outdoors, as well as fitness and sports facilities. That's why the city came in at No. 6 on WalletHub's 2014 list of the best cities for an active lifestyle.
Best Beer Cities
When you're done exploring outdoors and need a cold beverage, Tampa offers tasty treats at local breweries and brewpubs. The area is home to more than 30 remarkable breweries, making it an excellent destination for those who enjoy a crisp, refreshing beverage on a balmy Florida day. In fact, Tampa was ranked No. 5 on a 2014 survey of the Best Beer Cities and named the No. 2 Beer Town in America. With Florida's mild winters, you can even enjoy refreshing craft brews, indoors or outdoors, year round.
Best Places to Retire
Tampa's amazing lifestyle also landed the city on WalletHub's list of the best places to retire. Out of a list that included 150 of the largest U.S. cities, the Tampa made the No. 1 spot with St. Pete at No. 4. From the area's bevy of recreational activities to its affordable cost of living, retirees will find that this city is not only wallet-friendly, but an excellent place to enjoy life.
Most Attractive Residents and Diversity
It's not just the weather, job market and activities which make the Tampa Bay region a phenomenal place to live, it's the people! Of course, vanity is only skin deep — but, Tampa residents were recently complimented as No. 10 in the United States for the "Most Attractive People쳌 by Travel + Leisure magazine.
The diverse population in the Tampa Bay area adds not only flavorful dining experiences and local festivals, but a friendly environment for entrepreneurs with St. Petersburg ranking as No. 8 "Best City in the U.S. for Hispanic Entrepreneurs.쳌
With a booming economy, great job market and wonderful activities, what's not to love about Tampa? We have one more characteristic which makes this Florida city even better—affordable new homes in Tampa Bay in various communities. Our Tampa new homes have something to offer every home buyer, whether you are looking for an easy-maintenance townhome or estate home on acreage. Homes in Tampa Bay are priced from the $140's to $300's and offer three to five bedrooms and up to 3,315 square feet of living space designed for today's lifestyle with open great rooms for family gatherings, porches and lanais for enjoying Tampa's great weather and a two- or three-car garage.
And, each home can be personalized to your unique style, needs and budget. At the Highland Homes Personal Selection Studio, choose from hundreds of options at every price point, from those that are included and no additional cost to luxurious upgrades. Plus, we make buying a new home more affordable than ever with our $99 Moves You In offer.
With so many benefits to living in Tampa, the only question left to ask is, "When can I move in?쳌 For more information and to find new homes in Tampa, visit the Highland Homes website.
---
Tags:
tampa bay local economy
Highland Homes
Tampa new homes
Tampa new home
new home
tampa
Tampa Bay
New Homes
Tampa Bay Business Journal
---