Posted:
September, 8, 2015 |
Categories:
News
|
Home Buying 101
Things are finally looking up for Millennials. It wasn't long ago that the financial crisis of 2008, and subsequent housing crash and recession, brought a string of unfortunately-timed occurrences for a generation looking to establish themselves in the workforce. Because of this, economists have kept a close watch on the health of the Millennial generation as a key indicator of the country's overall prosperity along our road to recovery.
Thanks to the lowest unemployment rate since 2008 (just 6.1%), more Millennials than ever are looking ahead to the future. So just what does that future hold? Well, according to one survey conducted by Harris Poll on behalf of Trulia, a whopping 89% of Millennials (those between the ages of 18-34) are planning on purchasing a home in their lifetime.
It's the same American Dream that's been passed down from generation to generation for decades. The difference now is that Millennials, in comparison to Generation X (ages 34-54) and Baby Boomers (55+), envision a different type of dream home for their families.
So just what does the Millennial's dream home look like?
Style.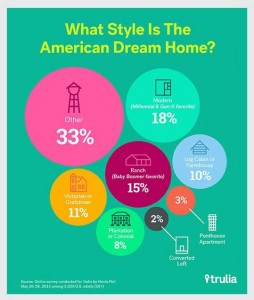 Millennials are setting their sights on more modern homes with cutting-edge technology and higher-end amenities. Somewhat surprising is the finding that most Millennials are not seeking outhigh-rise, luxury penthouses. In fact, only 6% of Millennials in the survey cited this type of home as their ideal.
Size.
According to the data, Millennials are more conflicted than other generations when it comes to picturing the size of their dream home. Nearly 30% of Millennials are undecided on their ideal square footage. But, 44% of Americans overall seek homes between 1,400- and 2,600-square feet.
Commute.
Across the board, the majority of Americans - including Millennials - prefer the slower life of the suburbs (27%) or countryside (27%), over the fast-paced hustle and bustle that accompanies living in a major city, such as finding a home for sale in Tampa (just 8% of respondents). Not surprisingly Millennials, who are neither close to retirement nor empty nest status, had the strongest preferences in proximity to the office (34%) and a good school district (also 34%).
Amenities.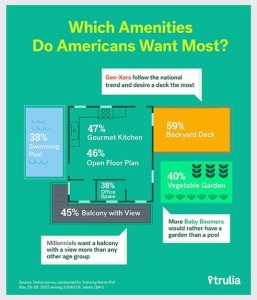 Slight variations in preference are all that separate Millennials from the Baby Boom Generation and Gen X's choice in amenities. The difference with Millennials is: they want it all! Where Baby
Boomers had a clear preference in things like a backyard deck, and Gen X'ers want vegetable gardens, Millennials' want all of the latest and greatest gadgets, and a view to go with it.
So why haven't more Millennials joined their predecessors in home ownership? According to the data, 36% of Millennials are currently saving up to buy a home in the next five years. To put that in perspective, 52% have their eyes on a new car, 35% have shifted their priorities towards college tuition, 26% are saving up for the trip of a lifetime, 15% are planning on paying for their own wedding, 9% haven't forgotten about saving for retirement, and 8% have their eye on engagement rings for the future Mrs.
Despite everything this generation has been through, it remains optimistic, with 87% believing that they will be able to purchase their dream home one day.
Highland Homes, a Florida home builder, helps to put the dream of home ownership within the grasp of Millennials thanks to their low down payment offer (just $99 down with qualifying financing) which eliminates the worry reported by many Millennials of saving for a down payment.
Highland Homes offers more than 30 home plans to choose from with 1,300 to more than 3,300 square feet of living space and modern features including open floor plans, designer kitchens, covered lanais/porches, drop zones and built-in storage solutions, and technology to make life easier. Additionally, Millennials may choose from hundreds of options to personalize their new home to their unique style, needs and budget.
Highland Homes builds new homes in communities throughout Central, North Central, Southwest, and Tampa Bay, Florida with homes priced from the $130's to $300's. For more information about Highland Homes and to view communities, home plans, and feedback from Highland Homes' customers, visit www.HighlandHomes.ORG.
Trulia is an all-in-one real estate website that gives you the local scoop about homes for sale and real estate markets and trends. Visit Trulia.com for tools and valuable information for home buyers, home sellers and renters.
---
Tags:
Highland Homes
Trulia
$99 down
home for sale in Tampa
Millennial home buyers
sale
tampa
---