blog
This November, We are Thankful for… Our Homeowners!
This November, We are Thankful for… Our Homeowners!
Posted:
November, 15, 2017 |
Categories:
News
|
General Info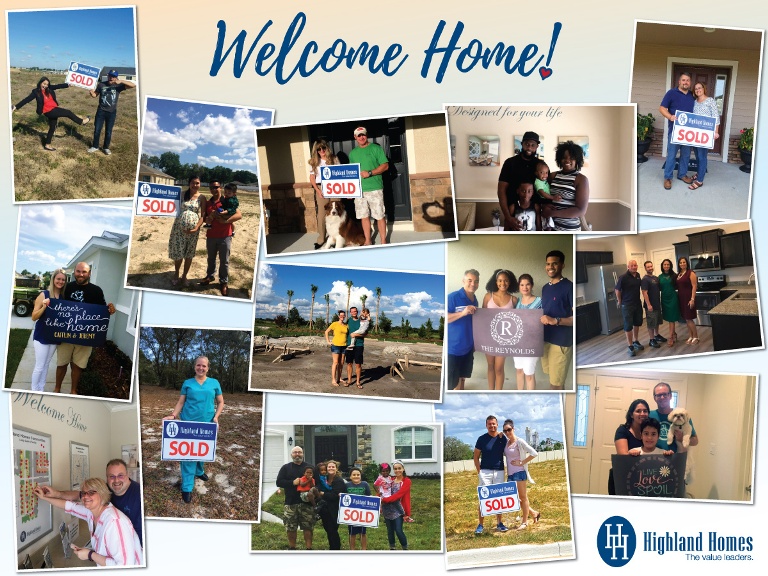 As we move toward the year's harvest, there's a popular trend on social media called the Gratitude Challenge. The goal of the challenge is to name something or someone that you are thankful for every day during the month. If we were to take this challenge, it would take us nearly twenty years to post about every homeowner that we are thankful for! To date, we've helped over 7,000 happy homeowners achieve their dreams of homeownership — over 550 of those so far in 2017 - and we have no intentions of slowing down.
"We would build again with you in a heartbeat — our experience was an awesome one — very satisfying. Our home is our sanctuary and we give thanks daily for our new home!쳌

- Jerry & Debra B., Highland Homeowners in Zephrhills
As an established Florida home builder dedicated to making our buyers' home buying experience memorable and stress-free, our hope is that our buyers are as thankful for us as we are for them. We're thankful that our buyers chose Highland Homes as their builder and instilled their trust in us. Each and every one of our homeowners is special to us, and our dedicated team members strive to create the most satisfying home buying experience possible. Thank you for giving us the opportunity to build your new home!
"I felt like a person and not just another sale... Somehow it became not just my dream, but theirs as well.쳌

- Debbie C., Highland Homeowner in Mulberry
At Highland Homes, our primary focus is on customer satisfaction and the relationships we build with our homeowners. We want you to receive personal attention throughout the building process, and our goal is to make your home purchase easy and exciting.
"Fairness and Honesty — We were pleased with the fairness and honesty we received from the staff, our contractor and even the follow-up by the warranty people. Value and Flexibility — We priced several builders and nobody could match what we were promised and received by Highland Homes. Thank you so much.쳌

- Eulogio and Yvonne V., Highland Homeowners in Dade City
The Thanksgiving holiday can be especially rewarding if you've recently moved into a new home. Creating your own traditions and bringing family and friends together to make memories that will last a lifetime is priceless. If this is your first time hosting Thanksgiving in your new Florida home, congratulations!! Click here for a few tips to keep in mind for a terrific and successful feast!
"We went to many other builders and we were so discouraged and disappointed since we met a lot of people who literally were forcing us to buy houses that we could not afford. Then we tried Highland Homes... and from that point on our lives changed.쳌

- Jerry & Giovanna R., Highland Homeowners in Davenport
Our Highland Homes family wishes yours a very Happy Thanksgiving, and we hope that you have as much to be thankful for this year as we do!
Interested in learning more about the experience of building your dream home in Florida with Highland Homes? Read Highland Homes testimonials, and visit the Highland Homes Facebook page for homeowner stories, news, events and more!
---
Tags:
Florida home
thanksgiving
homeowners
Thankful
Highland Homes
new Florida home
Florida
FL
---