blog
Three Cheers for 20 Years - Highland Homes Celebrates a Major Milestone
Three Cheers for 20 Years - Highland Homes Celebrates a Major Milestone
Posted:
July 7, 2016 |
Categories:
News
|
Events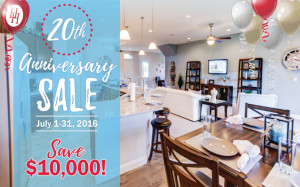 July 1, 2016 marked a major milestone here at Highland Homes, as we are celebrating our 20th anniversary!
Over 20 incredible years, we have built dream homes for more than 6,500 Florida home owners, ranked among the top builders in the nation, and worked hard to create the most satisfying home buying experience possible for each and every customer we've had the honor of building for.
We have built upon the foundation of our success with more than 50 different recognitions from some of the top real estate and business publications in the nation. Just this year, we jumped 21 positions and ranked as the #81 largest builder in the U.S. on Builder Magazine's Builder 100 List, moved 25 positions up to the #129 largest builder on Professional Builder's Building Giants List, and placed #47 on the Gator 100 List of fastest growing UF alumni-owned companies in the world. And on July 21, Highland Homes will once again be honored at the Tampa Bay Business Journal's Fast 50 awards, recognizing the fastest-growing, privately-owned companies based in the Tampa Bay region.
We attribute this success, first and foremost, to our wonderful homebuyers who have entrusted Highland Homes with the honor of building their dream home. In addition, we couldn't do it without our dedicated team members, construction subcontractors, and Realtor partners.
Bob Adams, Owner and President of Highland Homes, has been building homes in Polk County for over 40 years, and was a founding partner of Sun State Homes for two decades prior to founding Highland Homes. "There is no substitute for experience,쳌 says Adams. "Our dedicated staff and long-standing relationships with local construction subcontractors and suppliers help us to provide a quality, high-value product.쳌
A large part of that value is in the selection and personalization. We want your home to truly match your needs, style and budget, so we offer a wide variety of home plans to choose from whether you are just starting out or looking for a home with more space. Homes start from the mid $100's to $300's and the price includes a standard home site and quality features, along with the opportunity to completely personalize your dream home at our Personal Selection Studio.
"We work hard to put home ownership within the reach of Florida home buyers with the variety of home sizes, pricing and finance options we offer, but we work even harder to ensure the satisfaction of our homeowners,쳌 Adams adds. "Our team is dedicated to providing the most satisfying home buying experience on earth.쳌
Interested in building your legacy with Highland Homes? We build homes throughout Central, North Central, Southwest and Tampa Bay, Florida, with communities in Tampa, Orlando, Lakeland, Winter Haven, Davenport, Ocala, Bradenton and more. Through July 31st, we invite you to join us in celebration of our 20th Anniversary milestone and save $10,000 on your new home, designed for your life! For details and to find your new home, visit the Highland Homes website or call our Florida New Home Specialists at 863-797-4999.
---
Tags:
Orlando
winter haven home
Florida home
Lakeland new home
Florida New Homes
Highland Homes
Lakeland new homes
florida new home
Winter Haven homes
Florida homes
central florida new homes
Orlando new homes
Tampa new homes
Lakeland
Winter Haven
20 years
anniversary
recognitions
sale
Tampa new home
Florida
new home
tampa
Central Florida new home
FL
Orlando New Home
New Homes
central florida
recognition
---