blog
Top Agents Recognized at End of the Year Awards Banquet
Top Agents Recognized at End of the Year Awards Banquet
Posted:
April, 19, 2010 |
Categories:
General Info
|
Events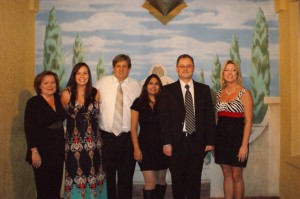 On March 10th, Highland Homes held their end of the year Awards Banquet at the Lakeland Yacht and Country Club, honoring the top performers of 2009 (pictured left to right is Joan Klein, Cody Sullivan, Gene Daoust, Lovely Rehsi, Gene Kucher, Denise Abercrombie). The evening could not have gone better — the event was very classy, the weather was gorgeous, the food was spectacular and the decorations were exquisite.\n\nThe annual Awards event is a Highland Homes tradition and is very well attended. This year's theme was Black and White, and it was an elegant, yet simple theme that received rave reviews from all who were in attendance. Wayne Cook, the Corporate Spokesperson for Outback Steakhouse, attended as the guest speaker and the attendees were amazed at his tenacity and positive attitude. Wayne was born with cerebral palsy, but never let that stand in his way from playing sports or being a super achiever. With the volatility of the housing industry these past years, many sales people can feel negative about their situation. Wayne's uplifting speech motivated the Highland Homes staff and they are driven to be more successful and create a positive, winning attitude.\n\n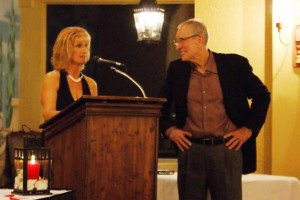 Bob Adams, Owner of Highland Homes, and Kathie McDaniel, VP of Sales and Marketing, hosted the event, with all members of the Senior Management team present.\n\nJoel Adams, Co-Owner, spoke to the employees and their guests about Brilliance and his speech was a great compliment to Wayne's story. Someone was heard saying "if tonight's speakers do not motivate you, you must be dead!" The evening was impactful and inspirational.\n\nAwards were given out for the top 3 sales agents for total number of sales, total dollar volume and total dollar volume of closings. The top sales people were as follows:\n\nGross Units Sold\n
\n
Gene Kucher - 32
\n
Cody Sullivan - 29
\n
Gene Daoust - 25
\n
\nTop Dollar Volume\n
\n
Gene Kucher - $5,397,388
\n
Cody Sullivan - $4,940,494
\n
Gene Daoust - $4,427,860
\n
\nClosings by Dollar Value\n
\n
Gene Kucher - $9,808,193
\n
Joan Klein - $5,333,563
\n
Denise Abercrombie - $4,339,903
\n
\nAlso receiving an award was Misty Boies as the Top Sales Counselor and Lovely Rehsi as the Rookie of the Year. Congratulations to all of the top performers! We wish you continued success in 2010.\n\nStacey Antonakos-Perez, manager of the Highland Homes
Selection Studio
, was responsible for the theme and decorating and had her own support team that helped. We are looking forward to continued success in 2010 and next year's event!
---
Tags:
real estate
Florida real estate
Highland Homes
annual awards banquet
awards
central Florida real estate
Florida
top performing real estate agents
Wayne Cook
FL
central florida
award
---