blog
You're Invited! Open House at the Highland Homes Personal Selection Studio
You're Invited! Open House at the Highland Homes Personal Selection Studio
Posted:
May 24, 2017 |
Categories:
News
|
Events
|
Design and Decorating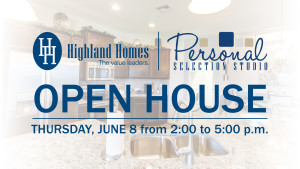 Are you ready to start personalizing your new Florida home to your unique style? It's our pleasure to invite you to an afternoon of design inspiration at the Highland Homes Personal Selection Studio!
Save the date for Thursday, June 8 from 2 to 5 p.m. and join us for this exciting Design Studio Open House where you will take a tour of our Studio and discover the multitude of design, energy-efficiency and technology features available when you build your new home with Highland Homes. You will meet the professional designers who will assist you with personalizing your dream home, preview the wide variety of exterior and interior design options, discover included and upgraded design selections, and learn more about how you can add upgraded design features without significantly changing your mortgage payment.
While you browse and start planning for your new home, grab a bite to eat with complimentary food and drinks courtesy of Home Solutions Lenders and Stinsons, enter to win a $50 gift card, and receive a special gift as our thank you for attending the Open House!
Our Personal Selection Studio is designed to make the home design process easy, comfortable, and exciting. The Studio showcases available design choices in a way which makes it easy to visualize them in your new home, and your personal design consultant will guide you through the design process and help you to select options and colors to personalize your new home to your style and needs.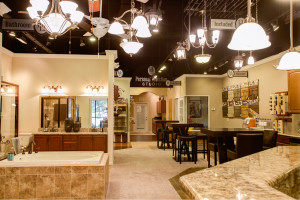 The Studio offers a wide variety of choices for cabinetry, countertops, appliances, lighting, flooring, home audio, electrical, energy-efficiency, and much more. On a tight budget? You still get to pick the colors and options you would like in each room of your home with plenty of included and at no extra cost selections to choose from. And, upgrades are available throughout so you may add the luxurious finishing touches you've been dreaming of.
Personalizing your new home at the Highland Homes Personal Selection Studio is a unique experience which allows you to bring your dream home to life, and move into a home truly personalized to your style and designed for your life.
The Highland Homes Personal Selection Studio is located at 2315 Commerce Point Drive #110 in Lakeland. We hope you can join us on June 8th when we open the doors to the Studio for this special event. So we may give you the personal attention you deserve, we ask your attendance include adults only. Please RSVP on Facebook or contact the Studio at (863) 667-4782 to RSVP via phone.
---
Tags:
personalized design
design studio
personal
design
open house
new home design studio
selection studio
personal selection studio
personalize
new home
home design
---