Posted:
September 14, 2016 |
Categories:
News
|
General Info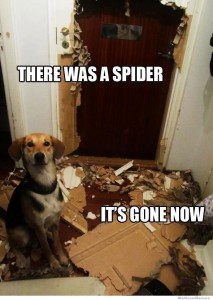 Purchasing a new home in Florida means beautiful weather, tantalizing tropical landscaping in your yard, and the opportunity to enjoy the great outdoors year-round. However, humans aren't the only ones who enjoy the balmy weather and warmer temperatures. Bugs of all kinds reside in Florida, and annoying ants, palmetto bugs may try to invite their way inside your new Florida home. By taking a few simple precautions, you can prevent these pesky insects from invading your home.
First Line of Defense
The first line of defense is the TAEXX built-in pest control system that we include in every new home we build. This innovative TUBES IN THE WALL® system stops pests before they get inside your home. The tubing is installed between the drywall and exterior block walls of your home, and creates a barrier between your family and bugs. One of the many advantages of this system is its environmentally safe formula, meaning there are 50 percent less chemicals used when compared to a traditional pest treatment, and all of the chemicals are registered by the Environmental Protection Agency (EPA). And, because it's sprayed in the walls and not inside your home, there's less opportunity for your family and pets to come in contact with the pesticides. You can rest assured that when you purchase your new Highland home, you're getting the best bug defense system out there!
Preventative Measures
There are a variety of ways that you can make your home seem "undesirable쳌 for unwanted pests if they manage to sneak past the built-in TAEXX system.
It's important that you keep your home clean so that bugs don't find a place where they want to eat, live and breed. You can use our simple spring cleaning tips at any time of the year to ensure your home is both clutter- and bug-free. In addition to regular cleaning, make sure you:
Clean behind your refrigerator and other large appliances regularly

Move curtains and blinds to clean thoroughly around window sills, and when you do so, check for cracks that need to be caulked

Make sure all exterior doors and windows seal completely when shut

Ensure all screened windows and doors have no holes or tears

Check that pipes that lead to the exterior of your home are properly sealed
Another culprit inside your home that is an open invitation for bugs is accessible food and water. Ensure that all of your food is sealed inside airtight containers, and store as many unsealed foods as possible inside of your refrigerator. Keep pet food dishes raised off the floor, and preferably away from windows and doors. Make certain that your counters and other cooking and eating surfaces are wiped clean with a vinegar and water solution after every use to prevent bugs from finding stray crumbs. Once you're finished with jars, juice containers or other items, be sure to rinse them out completely before placing them in the trash or recycle bin, and make sure that trash can has a lid. Finally, make sure leaky faucets are fixed and that drains and disposals are clear of food.
Outdoor Prevention
With weather perfect for nearly year-round outdoor living, pests in your backyard or on your porch can be just as annoying as those inside of your home. Our Florida new home buyers have the option to screen-in the lanai of their home, to enjoy the outdoors while staying protected. If your lanai or porch is not screened, adding an outdoor fan can keep air moving and pests at bay.
You can also discourage bugs from living in your yard by incorporating pest-proof plants. A variety of plants are proven to prevent bugs from congregating nearby, such as citronella, marigolds and catnip. Head to your local home improvement story or nursery to find plants appropriate for your growing zone, find out when is the best time to plant them, and then include them in your outdoor landscaping.
If you have an outdoor entertaining area that includes a swimming pool, grill or water feature, it's important to keep those areas clean year-round. Swimming pools can be a breeding ground for bugs whether they're open or closed, so be sure to keep them properly cleaned and treated. Make sure your grill is cleaned after every use, and don't forget to empty out and wash the grease trap. Finally, if you have bird feeders, fountains or other water features in your yard, make sure they're free of standing water, which can be a breeding ground for a variety of unwanted pests.
Finally, your last line of defense when spending time out of doors is to use insect repellent. The CDC recommends several EPA-registered active ingredients, including DEET, Picaridin, lemon eucalyptus oil and IR3535. These ingredients can be found in a variety of name-brand repellents, including Off!, Cutter, Repel, SkinSmart and Skin So Soft Bug Guard Plus.
At Highland Homes, we want our homeowners to enjoy your new home, inside and out, while staying safe from annoying pests. Get more tips on maintaining your new Florida home throughout the seasons on our Pinterest page and on the Highland Homes blog.
---
Tags:
Florida home
Taexx
TAEXX built-in pest control
new Florida homes
Florida homes
new Florida home
Florida
FL
---