blog
Protect Your Loved Ones and Your New Home During Florida's Hurricane Season
Protect Your Loved Ones and Your New Home During Florida's Hurricane Season
Posted:
August, 20, 2015 |
Categories:
News
|
Why Buy New
Along with summer comes the possibility of hurricanes or tropical storms here in Florida. The hurricane season officially runs June 1st and through November 30th, peaking late August through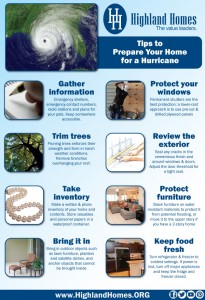 September. If the experts are right, the good news is that we are on track for a below-average hurricane season here in Florida in 2015. However, it pays to be prepared; here are some helpful tips and information to protect your loved ones and Florida home in case of a storm.
Family Disaster Plan
A disaster plan is important not just for hurricanes; recent flooding in Tampa and Lakeland shows that weather emergencies can occur during any storm, and emergencies can happen when you least expect. The top way to protect your loved ones is to have a plan and make sure everyone in the household has it engraved in their mind.
Designate an out-of-state friend or family member to be an emergency point of contact; it may be easier to get a call to go through out of state than across town in case of a local disaster. Text messages may also have a better chance of getting through when you can't get a call out. Also, every person with a cell phone should have a designated ICE (In Case of Emergency) contact in their phone, which emergency personnel are trained to look for. Check out Ready.gov to help you develop a family disaster plan and keep in touch during an emergency.
Make sure you are aware of emergency shelter locations in the vicinity of your Florida home. FloridaPetFriendly.com offers a resource that lists pet friendly shelters and hotels by county, and most county websites also designate pet-friendly shelter locations.
Disaster Supply Kit
Ready.gov recommends a basic emergency kit include the following:
Water - One gallon per person per day for at least three days

Food - At least a three-day supply of non-perishable food

Manual can opener and eating utensils

Pet supplies for at least three days

Battery-powered or hand crank radio, a NOAA Weather Radio with tone alert and extra batteries for both

Flashlight and extra batteries

First-aid kit and medications

Whistle to signal for help

Dust mask to help filter contaminated air

Plastic sheeting and duct tape to shelter-in-place

Moist towelettes, garbage bags and plastic ties for personal sanitation

Wrench or pliers to turn off utilities

Local maps

Legal documents

Cell phone with chargers, inverter or solar charger
When preparing your kit, make sure to write the date you store it on all your containers and replace with fresh food and water every six months. Easy to carry containers such as a tote works well for storing your disaster supplies.
Prepare Your Home
It is very important to prepare your home to weather the storm. Keep up with outside maintenance year round — don't wait until a storm is coming! Here are a few of our top tips to keep your home storm-ready:
Trim trees and remove branches overhanging the roof

Review the exterior of your home — seal any cracks in the stucco finish with an elastomeric caulking, and caulk around doors and windows with an outdoor caulk designed for your window or door frame materials. Adjust the door threshold for a tight seal.

Protect your windows — permanent shutters are the best protection; a lower cost approach is to pre-cut and drill plywood panels. Make sure to label the panels for your windows and have holes pre-drilled in the exterior walls for easy installation.

Bring in outdoor objects such as lawn furniture, planters and satellite dishes, and anchor objects that cannot be brought inside.

Turn your refrigerator and freezer to the coldest setting. If power is lost, turn off major appliances to reduce power "surge쳌 when electricity is restored. It is important to keep the fridge and freezer closed if the power is out. According to foodsafety.gov, a refrigerator will keep food cold for about 4 hours if the door is left closed and a full freezer will hold its temperature for about 48 hours.

Make written, photographic and video inventories of your home and possessions. Store them along with valuables and personal papers in a waterproof container.

Move furniture to the highest level of your home or stack on water resistant materials.
Make sure you're not caught off guard this storm season. You can find out more about how to protect your family and Florida home from the Florida Division of Emergency Management.
Highland Homes is based in Lakeland, Florida, and owners, Robert J. and Joel Adams, have more than 60 years of combined experience building quality homes in Florida. As a local company, we understand Florida weather and our homes are built to meet or exceed the latest hurricane standards and building codes to protect your investment and family. Peace of mind is just one of the many reasons to choose Highland Homes. Visit the Highland Homes website to learn more about our dedication to building you a quality and affordable new home, and providing the most satisfying home buying experience possible.
---
Tags:
Florida home
hurricane safety tips
tips
safety
Highland Homes
Florida home builder
Florida
FL
---