blog
Tampa Home Builder Helps You Prepare for Hurricane Season
Tampa Home Builder Helps You Prepare for Hurricane Season
Posted:
July 3, 2012 |
Categories:
General Info
|
Events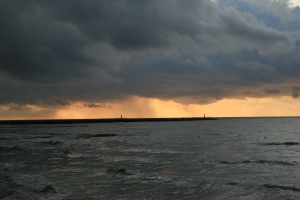 When summer comes along in Florida, so does the possibility of tropical storms and hurricanes. This year's hurricane season, which officially started on June 1, is projected to produce about 9 to 15 named storms - we have already "weathered쳌 Tropical Storm Debby. As your trusted Tampa home builder we want to make sure you, as well as your home, are prepared for the 2012 hurricane season. Below are some safety and planning tips to help you get ready for any bad weather that may come our way . First, you need to come up with a plan to keep your family safe. Make sure you know emergency shelters in your area, make plans for your pets  and that everyone in your household knows what to do in the event of a storm. It is also important to build a disaster supply kit prior to the storm. Stock up on everything your family will need for four or so days. This includes, at least 1 gallon of water, per person, per day, non-perishable food items, medicines, legal documents, clothing, pet supplies, flashlights, a battery powered radio, extra batteries and whatever else your family may need. Also, make sure you have a list of emergency contacts numbers and radio stations readily available. Once your family is prepared, make sure that your home is as well. Here are some tips to prepare your Tampa, Lakeland, Winter Haven and Orlando homes for a storm:
Trim trees and remove branches overhanging the roof

Review the exterior of your home — seal any cracks in the cementious finish and caulk around doors and windows.  Adjust the door threshold for a tight seal.

Protect your windows — permanent shutters are the best protection; a lower cost approach is to pre-cut and drill plywood panels.  Make sure to label the panels for your windows and have holes pre-drilled in the exterior walls for easy installation.

Bring in outdoor objects such as lawn furniture, planters and satellite dishes, and anchor objects that cannot be brought inside.

Turn your refrigerator and freezer to the coldest setting.  If power is lost, turn off major appliances to reduce power "surge쳌 when electricity is restored.

Make written, photographic and video inventories of your home and possessions.  Store them along with valuables and personal papers in a waterproof container.

Move furniture to the highest level of your home or stack on water resistant materials.
Make sure you're not caught off guard this hurricane season. You can find out more about how to protect your family and home by visiting the following sites: International Code Council Florida Division of Emergency Management Our new homes are built to meet or exceed the latest hurricane codes, for added safety for your family.  Peace of mind is just one of the many reasons to choose a Highland Home. For more information on Highland Homes, please visit our website.
---
Tags:
Orlando
hurricane safety tips
tips
safety
florida division of emergency management
international code council
Tampa home builder
orlando homes
Florida
tampa
FL
---