Posted:
September 13, 2019 |
Categories:
News
|
Design and Decorating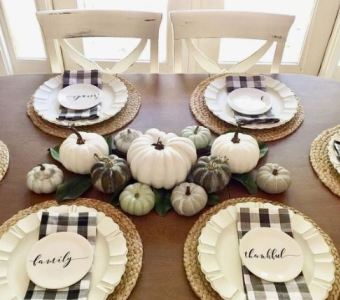 The official beginning of fall is less than two weeks away and we've already been surrounded with all things pumpkin spice, which means it's time to enjoy one of the most festive aspects of the season – decorating your Florida home for fall! From delicious spiced-scents to dramatic fall foliage, fall is one of my very favorite seasons for decor and with a few simple changes to the decor in your home, you can usher in autumn and begin enjoying all things cozy, flannel, and pumpkin.
Switch Out Your Indoor Plants
A simple—and often inexpensive—way to transform your space for fall is swapping out the floral arrangements or plants you have around your home. Replace your bright sunflowers or tropical stems with flowers that feature muted hues or earthy tones, such as moody dahlias or gold chrysanthemums. You can even incorporate dried flowers into the arrangement, or add in touches of natural elements such as acorns, pinecones or branches.
Think Textured
Another favorite way to announce the arrival of fall is switching up the textiles in your home from lightweight summer fabrics to those with cozier, chunkier textures. Replace throw pillows and blankets in your living room or on your beds with pillows that feature a chunky knit, faux fur or Sherpa lining. The addition of these heavier fabrics automatically makes you think of cooler temperatures and snuggling up!
If you're hot natured or you simply don't want to commit to those heavier textures just yet, opt for lighter weight fabrics in autumn hues or patterns. Rich gold, deep auburn, and dark red can make a fall statement, while patterns such as buffalo check or plaid conjure up images of those beloved fall flannels.
The Great Pumpkin
It goes without saying that the pumpkin is essentially the unofficial symbol of fall. Perfect for general fall décor, Halloween-themed fun and even Thanksgiving table centerpieces, you can use pumpkins as décor from September right up until the transition into the winter months. Whether you choose to incorporate elegant pumpkins that match your current home décor or traditional jack o'lanterns, pumpkins are a great way to add a touch of fall to your home in Florida. Adding a simple arrangement of pumpkins to your entryway table or coffee table is a fun touch that makes a statement too. We also love filling a simple glass vase or bowl with decorative mini pumpkins that can easily be swapped out with seasonally appropriate décor all year long.
Treat Your Sense of Smell
Another simple yet effective way to get you in the mood for fall is by incorporating autumn-inspired scents into your home. Candles, potpourri, and even essential oil diffusers can all feature fall scents to have you instantly dreaming of cooler temperatures and cozy sweaters at first smell! Look for candles or oils that include hints of apple, cinnamon, pumpkin, spice, cedarwood, or even pine or fir to make your Florida home smell like fall! For a DIY fall-scented potpourri, click the Pin above to get the recipe!
For more fall décor inspiration for your home in Florida, visit our Falling for Autumn Pinterest Board.
At Highland Homes, we build new homes in Florida designed for your life in Florida's most desirable locations including Lakeland, Ocala, Tampa, Bradenton, and Metro Orlando. For more information on Highland Homes and building your dream home this fall, contact our Florida New Home Specialists at 863-797-4999 or visit www.HighlandHomes.org.
---
Tags:
decorating tips
fall decor
Highland Homes
---