Posted:
October, 29, 2014 |
Categories:
News
|
Home Buying 101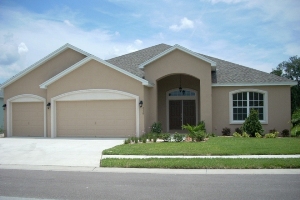 October is known as a month for spookiness and heebie jeebies, but getting a home mortgage does not have to be on your list of fears! If you have been letting the thought of a qualifying for a mortgage scare you away from purchasing a new home, it's time to exterminate those fears — getting a mortgage may be easier than you think.
Recently, Wells Fargo, the largest U.S. mortgage lender, released results from a survey of prospective first-time home buyers. According to their results, nearly two-thirds of the respondents thought that a very good credit score was necessary to purchase a home, while more than 40 percent believed they needed a down payment of at least 20 percent of the purchase price.
In reality, thanks to government-backed programs, even home buyers with past credit issues and lower than "prime쳌 credit scores can get a mortgage, and with less money down than you may think.
In fact, buyers of our Florida new homes can purchase a new home with just $99 down with qualifying financing. No, that's not a Halloween trick. We understand you may not have a lot of money saved for a down payment, and believe that should not stop you from being able to own your own home. That is why we have worked with our preferred mortgage lenders to offer financing options so someone who wants to buy a home can make that happen with just $99 out of pocket.
While credit is a factor in qualifying for a mortgage, it's not the only consideration and many other factors are also considered such as your income, expenses, and account history. Plus, minimum credit score requirements may not be as high as you believe; in fact, Highland Homes works with preferred lenders who are able to provide mortgages for borrowers with a FICO credit score as low as 580. While every individual's situation is different, the only way to truly know if you are able to qualify for a home is by speaking with a mortgage professional - Here's a list of preferred lenders who can help you to determine your purchasing power.
The Wells Fargo survey also found that potential home buyers are afraid of even trying to buy a home because they fear getting turned down for a mortgage loan. According to the report, 19 percent of respondents did not take steps toward receiving a mortgage because of the fear of rejection.
To quote Franklin Roosevelt, the only thing we have to fear is fear itself! Don't prevent yourself from achieving your dreams because you fear rejection. You never know until you try, and if you're not quite able to qualify at this moment, we have programs available to help you improve your purchasing power and get you started on the road to homeownership.
While many of the respondents in the Wells Fargo survey were fearful of the mortgage process, two out of three respondents agreed that now is a good time to buy a home. With our affordable $99 down payment finance program, as well as our fantastic October promotion, it is a better time than ever to build your dream home in one of our Central Florida, Tampa Bay, Manatee County or Ocala, Florida new home communities. With homes priced from the low-$100,000s and more than 30 stylish home plans to choose from, we are sure to have the perfect home for your needs and budget.
Now that we've cleared up a few mortgage qualifying myths, don't let anything hold you back. For more information on qualifying for a mortgage and to find your new home, visit the Highland Homes website and contact one of our New Home Specialists today!
---
Tags:
mortgages
real estate
Florida real estate
Home Buying Misconceptions
home buying
mortgage
Florida
FL
---