Posted:
July 21, 2020 |
Categories:
News
|
General Info
|
Why Buy New
|
Design and Decorating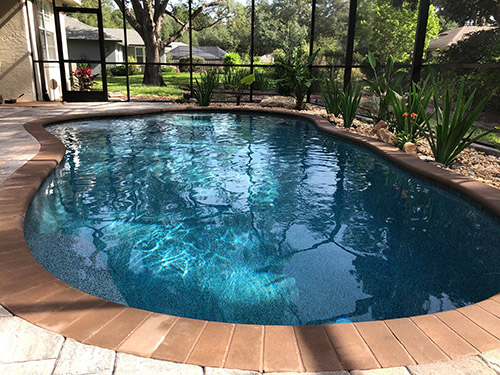 Imagine your personal backyard oasis. Is it a screened-in tropical paradise, full of colorful lavish plants, with a small cascading poolside waterfall? Or is it fenced in, with minimal flora and plenty of space for lounge chairs and sunbathing? Either way, it's your backyard poolside oasis. When you're designing this landscape there are many possibilities to consider, so you can relax and enjoy all the benefits that come with adding a private pool to your Florida home.
Enhance your quality time at home
A private backyard pool helps cool you off during the hot Florida summer months. And, a Florida home with a private pool also provides you with year-round access to benefits which include:
a mental and physical stress relief outlet,
a suitable low-impact workout venue, plus
the option to teach the kids in your life how to swim and have fun, and
according to money management expert Dave Ramsey, a pool has the potential to increase your home's value by 7%!
Personalize and accent your pool oasis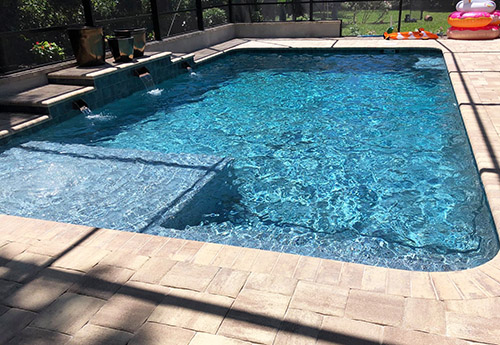 When it comes to designing your poolside oasis, where do you start? Small, medium, or large? Spa or no spa? Rectangle, free form, or grotto-style? Including a pool when building your Florida new home means you work with the builder to incorporate the features that fit your lifestyle and preference. Several of our new home communities have backyards suitably sized to add a swimming pool, so whether you're thinking island getaway with an extended pool deck, or small and cozy, either one is possible.
Your selection of accessories, accents, and finishes convert your outdoor living space into a unique sanctuary with simple or complex features such as:
large external or in-ground planters for giant leafy plants or flowers,
minimalist style with no plants and a small waterfall,
a decorative storage space that's part of the landscape, or
a plaster, quartz, or pebble style finish.
Upkeep of your Florida pool
You may think owning a Florida home with a private pool is a costly or time-consuming investment. We are here to bust a few of those myths! Did you know that running your AC could actually cost more than running the pool pump? Also, today's technology has made pool maintenance virtually stress-free, another wallet-friendly benefit. Companies like Griffin Pools, our preferred pool contractor, use construction materials that are more durable and extend the life of your pool, prolonging the need for future restoration. Energy-efficient pumps can save you money on energy bills, and automated systems for chemical testing, filtration, and heating conveniently let you schedule cleaning cycles directly from your smartphone.
Today instead of tomorrow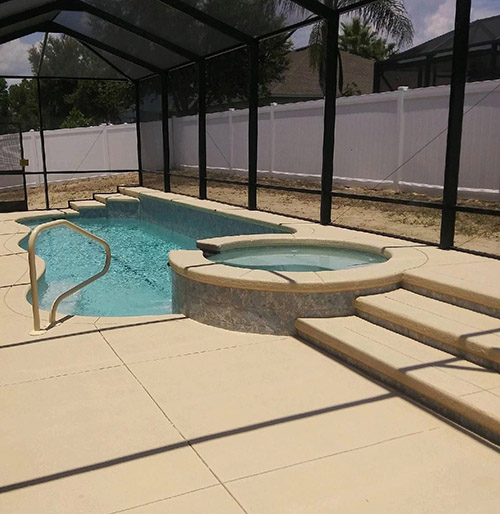 Choosing to include a pool when building your Florida new home means you:
can include the cost in your mortgage rather than paying it out of pocket,
don't have to worry about uprooting your landscape, or rebuilding fencing later,
don't have construction noises disrupting you for several months after you move in!
We expand more on the construction options in our blog post Planning Your Pool Paradise when Building a New Florida Home. If you're picturing your poolside oasis as a future add-on to your Florida home, our partners at Griffin Pools, a knowledgeable family business, are ready to answer your pool construction and design questions. Griffin Pools has been building pools for 45 years, and their team of experts knows the ins and outs for Florida pool homes and outdoor living throughout Polk and Hillsborough counties. Not only are they an industry leader, but an award-winning company for their custom pool design and construction and exemplary customer service.
At Highland Homes, we are dedicated to building quality homes designed for your life and have many communities with pool friendly backyards. We are ready to work with you to discover your pool construction options and invite you to browse communities where you can build your Florida pool home, and call or email to connect with a Florida New Home Specialist who can assist you with getting started on the new home of your dreams!
---
Tags:
Amenities
Swimming Pool
Energy Efficiency
Design Features
Design Trends
Construction Process
Homeowner Tips
Online Tools
---